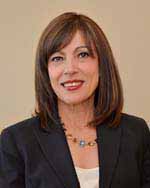 Georgette Habib
Board Director
Ms. Habib has a long record of public service and brings over 30 years of experience in the regulation of the energy industry. Ms. Habib currently serves as an independent corporate director of the Alberta Electric System Operator. Ms. Habib was a full-time board member of the National Energy Board (NEB) from 2006 to 2013, where she adjudicated significant energy applications, including tolls, tariff, pipeline development, market access in the public interest and upstream resource development in Canada's north. She also served on the Board of Governance of the University of Calgary.
In addition to being a board director, Georgette Habib is the chair of the board human resources, health and safety committee and a voting member on the board audit and finance committee.
Between 2015-2019, Ms. Habib led her own consulting company providing consulting service and expert evidence in matters related to economic regulation of energy utilities. She started her career with the Alberta Energy Resources Conservation Board (the predecessor of the AER) in progressive positions in the field of Economics.
Ms. Habib is a member of the Institute of Corporate Directors (ICD) and completed advanced governance education program from the Canadian Board Diversity Council. She holds an M.A. in Economics from the University of Alberta and a B.A. in Mathematics from the American University of Beirut.