Updated April 2021
The methane reduction requirements are a significant change to how industry manages and reports methane. Better industry understanding of and compliance with the requirements will be critical to successfully reducing methane emissions. To improve understanding and ensure compliance, we are carrying out the following activities:
We have invested in methane detection equipment to better our understanding of emissions, detect potential noncompliances, and help drive better industry performance. The detection equipment we are using includes:
Optical gas imaging cameras used by methane field inspectors across the province
Truck-mounted methane sensors
Drones with gas imaging cameras that can monitor methane plumes
 Vent gas metering equipment
Learn more about the compliance assurance program at the AER. 
Remote Sensing Pilots
In 2019 and 2020, we tested remote sensing technologies such as satellite-, airplane-, and truck-mounted methane sensors as emissions compliance tools. The objective of the pilot was to determine if there are technologies available that could serve as regional surveillance tools for emissions compliance.
As part of the 2019 pilot program, we deployed airplane- and truck-mounted methane sensors over 567 km2 to collect site-level methane data. We also collected methane data via satellite, but this data was not at a resolution that was useful for evaluating site level exceedances. Where high volume emissions were detected, we followed up with the operators of those sites to better understand what was causing those emissions. We followed up on 12 facilities in the Grand Prairie area and 37 facilities in the Wainwright area. In almost 75% of cases, operators were able to explain the observations.
The majority of emissions observed were mitigated through minor and simple fixes on-site. However, just over 10% of the emissions observed and discussed could not be attributed to any activity, equipment, or operations after discussion with the duty holders. Unaccounted for discrepancies between aerial emission detections and ground-level emissions will have to be better understood. 
The image below shows the flight path of the aerial mounted sensor. The flight path is traced by the white line and the surveillance area is highlighted in red. Oil and gas facilities are highlighted in green and white boxes indicate a location where methane emissions were detected.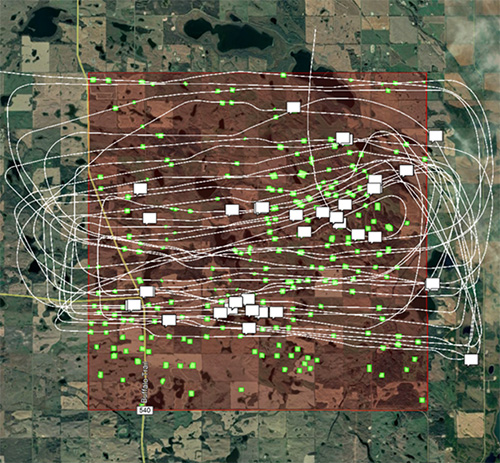 Flight paths for aerially deployed methane sensor in 2019
For the 2020 pilot program, we used a different airplane-mounted methane sensor over 1435 km2 to collect site-level methane data. We did not proceed with truck-mounted sensors because of COVID-19 restrictions, though we were pleased with their performance in the 2019 pilot. 
Emissions data from both the 2019 and 2020 pilots can be used to evaluate limit exceedances, but they are only snap-shot detections in time and are not solely able to confirm a noncompliance. 
In the map below you will see the locations of the 2019 and 2020 remote sensing pilots conducted by the AER in Alberta. Click on the coloured blocks to see details of each pilot. 
Remote Sensing Pilot Locations
Click on the double arrow in the top left corner of the map to see the legend and map details. 
Click here for a pdf map of the remote sensing pilot locations. We learned the following important lessons from these pilots:
Remote sensing technologies help us focus our efforts on the highest emitting sites which helps us risk inform our compliance program. 
Remote sensing increases our regulatory oversight and cost efficiency. Over two years of pilots, we have information from more than 3,000 oil and gas sites at a fraction of the cost of in-person inspections. 
Data management is critical. It's important to have systems in place to manage data, so we can use it efficiently to inform compliance actions.