Under the Licensee Management Program (LMP), the results from the holistic licensee assessment will be used to identify those licensees that are or are likely to be at risk of not meeting their regulatory and liability obligations throughout the energy development life cycle. The AER will specifically engage and use appropriate regulatory tools or conduct compliance assurance activities with the licensee to address the risk. This may involve providing education or recommendations to follow industry best practices and, where appropriate, initiating specific regulatory actions. The AER will implement the LMP in phases. In this first phase, the program will holistically assess, prioritize, and additionally review producer licensees. Three primary desired outcomes for the LMP are to help ensure licensees:
proactively conduct timely closure work and reduce liability;
maintain integrity of infrastructure and site; and
manage infrastructure to minimize the risk to the public and environment.
Together, the holistic licensee assessment and desired outcomes mentioned above will be used to guide the program and the associated decisions.
The following video provides an overview of the Licensee Management Program described in section 3 of Directive 088: Licensee Life-Cycle Management and Manual 023  as part of the new Liability Management Framework (LMF).
Program Overview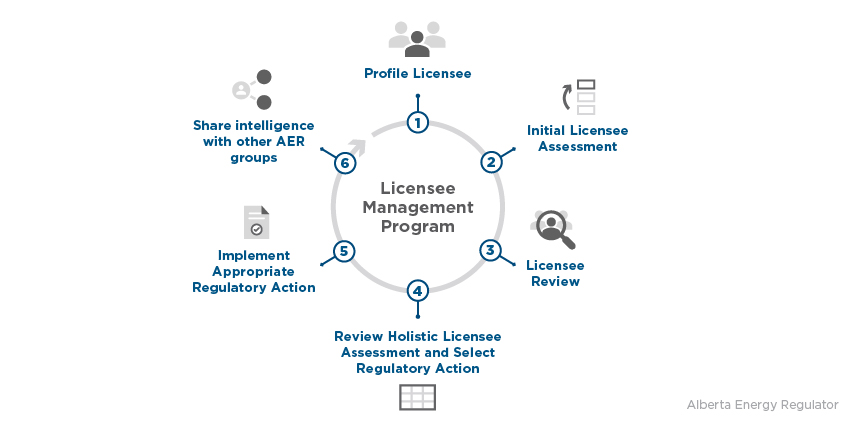 Licensees with similar characteristics are grouped into licensee profiles using the Licensee Capability Assessment (LCA) intelligence and other relevant factors as applicable. These licensee profiles will be used to identify regulatory and liability risks.
Licensees will be assessed and prioritized for additional licensee review.
The AER will conduct a licensee review to better understand licensees' circumstances, risks, and capability. Steps 1 – 3 make up the holistic licensee assessment. 
The AER will use a risk matrix approach to select suitable and consistent regulatory actions based on findings from the holistic licensee assessment.
The AER will implement and monitor the selected regulatory action from step 4 to ensure licensees are managing their regulatory and liability risk. 
Findings from the licensee management program will be shared across the AER to support decision making. 
Contact Us
For questions about the Licensee Management Program (LMP), please email @email