The AER's role
The AER has well-established processes for regulating the development of energy resources. As the regulator for minerals, the AER will apply these existing processes and develop mineral requirements that reflect the Government of Alberta's objectives set through policy, regulation, and legislation. 
The AER is responsible for the safe, efficient, orderly, and environmentally responsible development of energy resources throughout their life cycle. This responsibility now includes the development of brine-hosted mineral resources. In executing its responsibilities, the AER will continue allocating and conserving water resources, managing public lands, and protecting the environment while providing economic benefits for all Albertans.
Other AER responsibilities include the following:
Mineral potential
The Government of Alberta has stated it wants to capitalize on Alberta's mineral potential to become a preferred international producer and supplier of minerals and mineral products. According to Renewing Alberta's Mineral Future, this will strengthen and diversify the economy, create jobs, and attract investment and address the shift towards a lower-carbon economy. 
Mineral types 
According to the MRDA, AER-regulated minerals will include critical and rare earth minerals. These critical and rare earth minerals can be found throughout Alberta and are used in batteries, portable electronic devices, TVs, toothpaste, buildings, eyeglasses, computers, vehicles, hospital equipment, and many other daily-use items.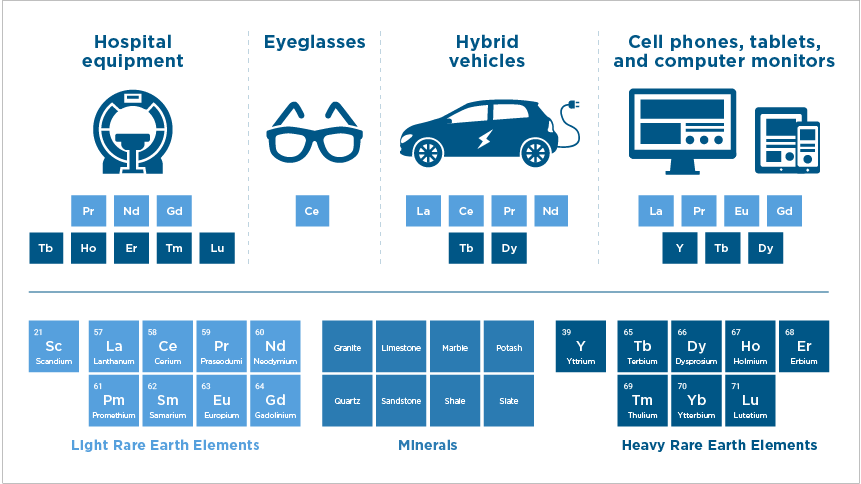 Examples of the minerals identified in MRDA include the following:
| | | | | |
| --- | --- | --- | --- | --- |
| gold | precious stones | zinc | limestone | phosphate |
| silver | copper | salts (including lithium) | marble | sandstone |
| uranium | iron | sulphur | potash | shale |
| platinum | tin | granite | quartz rock | slate |
The following were excluded as they are regulated through existing legislation: petroleum, oil, asphalt, bituminous sands, oil sands, natural gas, coal, ammonite shell, sand, gravel, clay, peat, and marl. The AER will continue to regulate petroleum, oil, asphalt, bituminous sands, oil sands, natural gas, and coal. 
The regulation of minerals has been split into two groups: brine-hosted mineral resources and rock-hosted mineral resources: 
Brine-hosted mineral resources are found in underground saltwater and are mostly extracted through well infrastructure. On the landscape, mineral extraction from brines will look like a traditional oil or gas well operation.  

On March 1, 2023, the AER became the life-cycle regulator of brine-hosted minerals.

Rock-hosted mineral resources are minerals extracted using traditional mining or quarrying techniques. On the landscape, mineral extraction from rock will look like traditional mining operations,: in situ (solution mining), open pit, and underground.

AER engagements on the rock-hosted phase of mineral resource development is underway. 
Mineral location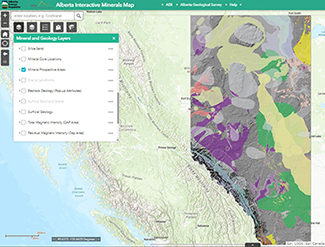 The Alberta Geological Survey (AGS) has been researching minerals within Alberta for decades. This has helped us map minerals within our province and demonstrate the potential for minerals resource development. On March 2, 2023, the AGS initiated the release of data collected as part of one of the largest mineral mapping programs in Alberta's history.
A subset of this data is available to visualize and download from the AGS interactive minerals map*.
Talking to Albertans
Since 2020, the Government of Alberta has sought input on its mineral strategy and the MRDA. This feedback was shared with the AER to inform its engagement work and the development of the future regulatory framework. The AER has expanded on the Government of Alberta's engagement sessions, beginning with engagement on brine-hosted mineral resources. Engagement on rock-hosted mineral resources will begin in July 2023. Our engagement events to date have included 
a public information session;
targeted engagement workshops with Indigenous communities, industry, and other stakeholders; and 
a public comment period to help inform the final regulatory requirements. 
Providing feedback  
Although formal feedback is closed for the regulation of brine-hosted mineral resources, we are planning events to seek feedback on rock-hosted minerals regulatory framework. There are several ways to provide feedback:  
Participate in an engagement event. We will reach out to those who previously identified an interest, those directly affected by potential operations, and key stakeholder groups. If you wish to participate, please email @email.  
Participate in the next public comment period. Public comment periods are announced through bulletins. Stay informed by subscribing to AER and AGS email updates or follow the AER on Twitter, Facebook, or connect with us on LinkedIn.
Finding answers
Based on input from our public engagement sessions, we have compiled answers to commonly asked questions about the regulation of brine-hosted mineral resources. Questions are divided into the following topics: 
regulatory oversight

liability management

environmental considerations

public safety and risk

participant involvement 
Because the regulatory framework for rock-hosted minerals is still in the planning stages, we cannot provide detailed information at this time. As information becomes available, we will update our responses. We will also issue a draft directive for public comment later this year. 
If you wish to provide input, express concerns, or ask questions, please email @email.
Questions about the regulatory application process for brine-hosted minerals can be sent to @email.
Does the AER have the expertise to regulate minerals?
The AER has, in various forms, been regulating energy and resource development in Alberta for more than 80 years. Also, our partners at the Alberta Geological Survey (AGS) have researched, mapped, and studied minerals for decades. .
Who is funding the regulation of minerals?
The Government of Alberta has provided grants to the AER to support this work. This funding is separate from fees collected from oil and gas. 
How will the AER manage competing interests from operators?
First, when mineral rights are issued also known as tenure. Alberta Energy manages mineral rights. Learn more about mineral ownership here.
Secondly, once the AER receives an application, we post a public notice of application. If you have specific concerns about a company's proposed energy or mineral development, you may submit a statement of concern (SOC). A hearing may be required to address a competing interest issue. 
Did you know?
Sometimes companies work together to meet their operational needs and lessen their environmental footprint. For example, wells that produce both geothermal energy and oil and gas.
What is the regulatory framework?
The Government of Alberta sets the policy regarding mineral resources. The regulatory framework reflects the policy direction and includes 
the legislative instruments (e.g., acts, regulations, and rules) and
the directives that specify requirements and expectations that industry must follow.
The following graphic shows the division of responsibilities for the regulatory framework. Similar frameworks exist for geothermal and oil and gas resource development.
Once the framework is in place, we enforce it through our compliance and enforcement program.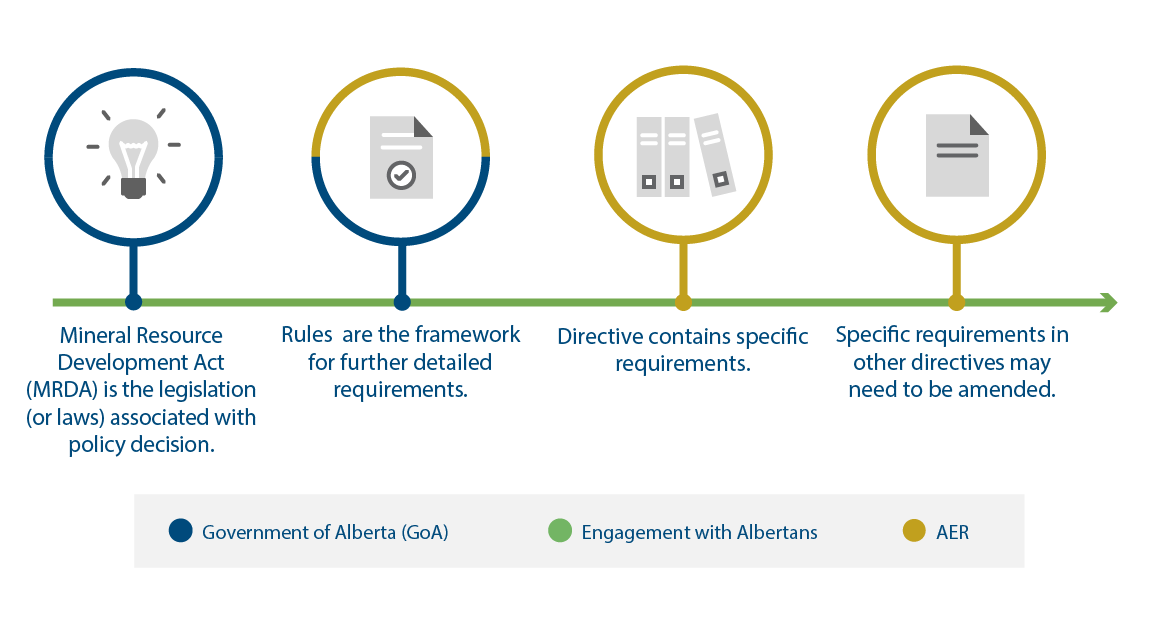 Who is responsible for brine-hosted mineral regulation?
Historically, mineral development was overseen by several regulators, including 
Alberta Energy
Alberta Environment and Protected Areas (AEPA), 
Alberta Energy Regulator (AER), and
Forestry, Parks, and Tourism. 
The AER now regulates the life cycle of brine-hosted mineral development through Directive 90: Brine-Hosted Mineral Resource Development. 
Did you know?
Proclamation is just one step in the legislative process. Requirements come into effect once the rules are published on the Alberta King's Printer by the Government of Alberta. 
What is a life-cycle regulator? 
AER regulation begins at the application review stage, continues throughout construction and operations, and ends with site closure and reclamation. 
How will liability be managed?
We work to develop and implement liability management programs that help to protect Albertans from potential environmental issues and costs associated with the closure of energy and resource projects. 
This approach includes a holistic licensee assessment. This assessment allows us to make decisions about a company's ability to manage its regulatory and liability obligations, including cleaning up its sites throughout its life cycle.  
Additionally, when submitting their application for brine-hosted mineral development, applicants must provide a security deposit of at least 50% of the total estimated liability of their development. However, we may collect a security deposit of up to 100% of the total liability estimate if higher risks are identified with the application or as warranted by the holistic licensee assessment. 
Applicants must provide an estimate of liability for each asset with their application.  
What type of water is used in the production of brine-hosted mineral resources?
Brines are highly saline (salty) water found deep below the base of groundwater protection. Therefore, brines are not used for drinking water (i.e., potable) or for agricultural purposes. 
Is brine extracted through mining?
No, brines are liquid and are extracted through wells.
Did you know?
Within Alberta, lithium is almost exclusively found in brine water.
How will the environment be protected?
The AER has existing regulatory requirements that apply to brine-hosted mineral developments (e.g., preventive measures such as conservation and reclamation planning, monitoring programs, and emergency response planning). These existing requirements were combined with specific requirements related to brine spills and cleanup, pipeline corrosion, soil protection, waste management, and storage. 
Did you know? 
Brine is a by-product of traditional oil and gas operations and is known as produced water. 
How big is the environmental footprint of brine-hosted mineral operations?
It varies depending on the operation and the technology. 
Did you know?
Operators could use existing infrastructure to extract brine-hosted mineral resources (e.g., wells, pipelines, storage units). This approach minimizes the footprint of development. 
Is there an increased safety risk associated with brine-hosted mineral resources?
We do not expect brine-hosted mineral resources to pose any public safety risks that cannot be managed through the Oil and Gas Conservation Act. The risks associated with well-based operations are clearly understood and managed using existing regulations. 
How can I be assured the AER will require industry to have appropriate risk mitigation measures in place?
We have extensive knowledge from the oil and gas sector that can help inform the safe and responsible development of brine-hosted mineral resources. For example, we have requirements for emergency response planning and for saltwater containment (e.g., berm heights, liner types, double-wall containment, leak detection, and spill response). We also apply additional requirements as the volume of water stored increases.  
What is participant involvement?
In general, it is about how operators engage with those affected by their operations as directed by regulatory requirements and the opportunities for participants to provide input about those operations. For example, Directive 056: Energy Development Applications and Schedules states that an operator must receive consent from a landowner to use their land before an application is submitted (this is called a nonobjection). 
How will participant involvement be managed?
Section 31 of the Responsible Energy Development Act (REDA) and section 5 of the Alberta Energy Regulator Rules of Practice set out the rules regarding public notice associated with resource development applications. Applications submitted under the MRDA will be subject to these participant involvement requirements (i.e., notification and consultation requirements). 
Did you know?
The AER provides opportunities to have your say about proposed developments beyond those outlined in REDA, including participation in a public comment period. We also seek feedback in less formal ways such as stakeholder workshops.
Will landowners be losing consent rights related to exploration activities? 
No. Under the current Metallic and Industrial Mineral Exploration Regulation (MIMER), landowner consent is required for exploration for most types of industrial mineral extraction where mining is the method. However, brine-hosted mineral exploration was exempt from MIMER because it uses well-based methods of extraction, which all but eliminate the need for exploration.  
Why does the Surface Rights Act apply to brine-hosted mineral development and not geothermal?  
The Surface Rights Act does not apply to renewable energy resources, such as geothermal, solar, and wind. Brine-hosted mineral resources are not renewable energy resources.